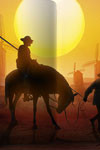 Don Quixote - Ballet
Royal Opera House
Preço a partir de € 188.00
The famous Mariinsky Ballet will open their London season with a dance adaptation of Miguel de Cervante's masterpiece Don Quixote at Royal Opera House in London.

Set in romantic Spain we follow Kitri and Basilio whos love is challenged by Kitri's father's fruitless attempts to find a more lucrative husband for his daughter.

The coreography is signed Petipa/Gorsky, and with Minku's irresistable music it lets the virtuoso dancer of the Mariinsky Ballet show off their brilliance.

How do I receive my tickets?
When you have finished your online booking you will recieve an e-ticket to your email adress, all you have to do is print it and bring with you to the theater in the day of the performance.