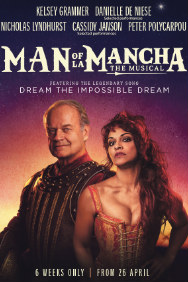 Man of La Mancha
London Coliseum
Preço a partir de € 21.00
Enjoy Kelsey Grammer in the lead in this semi-staged concert production of Man of La Mancha. It's the famous story about Don Quixote and as his faithful servant Sancho Panza.
Highlights:

- Experience Kelsey Grammer in the lead
- Enjoy the famous story of Don Quixote
- Choose your own seats
Watch Man of La Mancha with Kelsey Grammer
Miguel de Cervantes, failed playwright, poet and tax collector, has been thrown in jail by the Spanish Inquisition for daring to tax a monastery.
Awaiting trial Cervantes is hailed before a kangaroo court of his fellow prisoners; thieves, cutthroats and trollops who propose to confiscate his meagre possessions one of which is the uncompleted manuscript of a novel called 'Don Quixote.'
Cervantes, seeking to save it, proposes to offer a novel defence in the form of entertainment.
As Cervantes and his servant transform into Don Quixote & Sancho Panza, his wild imagination leads them into a campaign to restore the age of chivalry, to battle evil and right all wrongs.
Please note that Danielle de Niese will not be performing at the following performances
:
1st, 8th, 15th, 22nd, 25th, & 29th May, 1st, 5th & 8th June Matinee performances 21st, 24th, 28th & 31st May, 3rd June, 5th June, 7th June & 8th June evening.
How do I get my tickets?

Shortly after your booking is complete, you will receive an e-ticket by email. Just print out your ticket and bring it with you to the theatre.