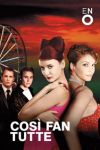 Cosi Fan Tutte
Royal Opera House
Preço a partir de € 229.80
The opera Cosi Fan Tutte by Mozart and Da Ponte plays in London. Book your opera tickets for Cosi Fan Tutte in London Coliseum here!

Così Fan Tutte – 'women are all, and always, so' – is Mozart and Da Ponte's final comic masterpiece. Two young men are persuaded by a friend to test the virtue of their fiancées by means of a cruel deceit: they disguise themselves and then each attempts to seduce the others' girlfriend. When the women succumb, virtue is crossed – perhaps even double-crossed. Love, lust and desire are played out in a world in which the boundaries between what is real and what is make-believe are blurred.

Against the erotic pulse of Mozart's sublime music, the characters in Così fan tutte act out a game of love which entangles them far more deeply than they could have thought, or perhaps would be willing to admit. Once the deceit is unmasked, can their lives really go on as before?